Are you a Kratom enthusiast, and you feel a bit confused when it comes to Kratom serving sizes? Or perhaps you've heard about Kratom before and are curious to learn more about the different aspects of the product?
As Kratom products continue to grow in popularity, the amount of bad or misleading information grows as well. As part of our effort to combat that misinformation, we created a helpful guide for figuring our Kraken Kratom serving sizes. Please be aware that the below chart reflects estimates and not exact measurements. For precision, we recommend using a digital scale such as our Blade 1KG Pocket Scale.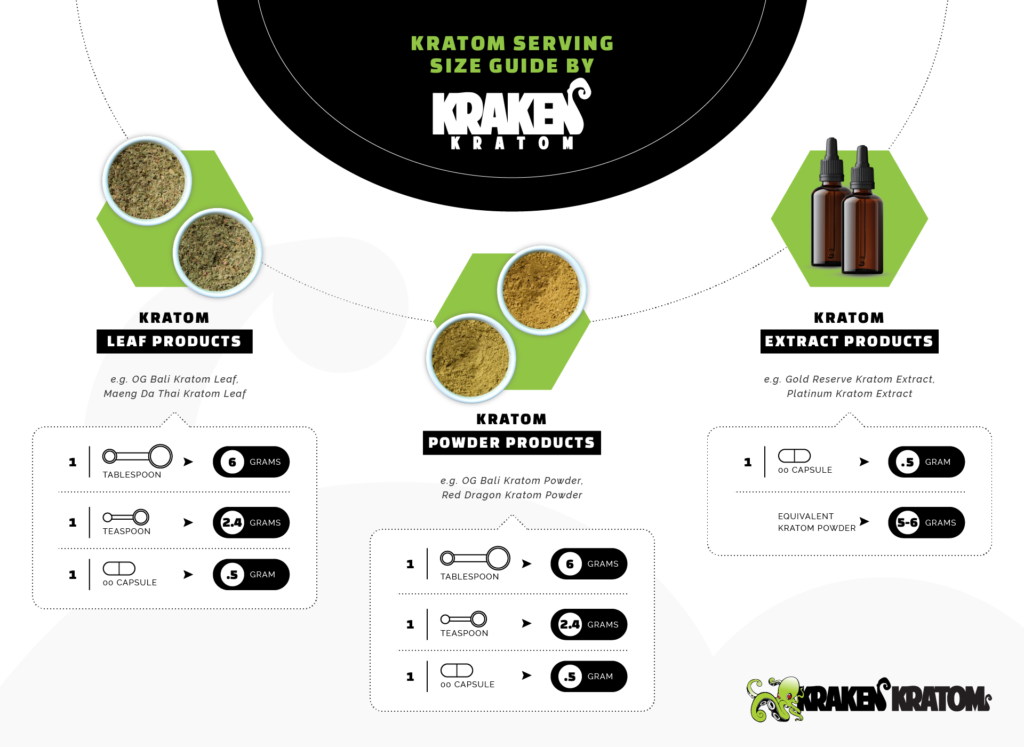 Kratom Leaf Products
Kratom Leaf products feature consistent serving sizes. Whether taking OG Bali leaf or Super Green Malaysian, the measurements remain the same. You'll find these measurements below:
1 Tablespoon equals 6 grams
1 Teaspoon equals 2.4 grams
00 Capsule equals .5 grams
Kratom Powder Products
Kratom powder products also feature consistent serving sizes. Whether it's Maeng Da Thai, Red Dragon, or another popular powder, all of the measurements remain the same.
1 Tablespoon equals 6 grams
1 Teaspoon equals 2.4 grams
00 Capsule equals .5 grams
Kratom Extract Products
Kratom extract products are a little different. They can vary greatly, depending on the source material, extraction method, and a variety of other factors. For more information about Kratom extracts, see our blog post: Kratom Extracts: What They Are & Why You Might Love Them.
1 ''00'' capsule of Kratom extract equals approximately .5 gram. However, it's important to remember that extracts or concentrated, so while .5 gram may seem small, it's actually representative of much more plant material.
Note that ''00'' size capsules are one of the most common empty capsule sizes available on the market.
How to Measure Your Kratom Serving
While you can use leveled measuring spoons to measure your Kratom serving, this is not the most accurate way to do so. Instead, many people opt to use a digital scale to make sure their measurements are spot on!
Using A Digital Scale
Using a digital scale is undoubtedly the best way to ensure you're getting the exact serving intended. One of the key things to keep in mind when purchasing a digital scale is that it has to be able to measure in grams, and it must be able to measure to the decimal. As an example, your scale should be able to measure 1.4g as opposed to going directly from 1g to 2g.
Additional tip:
You should also always tare your scale to ensure precision. Taring subtracts the weight of whatever surface you choose to weigh your product in. A small plastic cup or bowl works best.
DIY Kratom Capsules
If you're often on-the-go and like the flexibility to take your Kratom whenever you want, wherever you are, investing in a capsule filling machine might be a great solution for you. Indeed, not only do DIY capsules allow you to consume your Kratom on-the-go, but they'll also enable you to take a consistent and standardized serving every time.
Note that while a Kratom capsule filling machine will make creating standardized Kratom batches easier, you can also do it by hand using leveled measuring spoons.
We hope this article will help you get the perfect Kratom serving. How do you usually measure your Kratom? We'd love to hear about it in the comment section below!